During my trip to Disneyland a few weeks ago, my friend Keith and I were discussing the Wine & Dine Half Marathon. Keith is an expert in all things Disneyland, was our tour guide for the weekend, and owner of
The Disney Project.
(Go check out the blog, he's got some awesome info out there!)
Keith and I had ran Wine & Dine together
last year
and finished at the exact same time. We both didn't have a great race so grumbled to each other about it, and then Keith stayed with me the whole time I was puking my guts out in the medical tent. So to say we 'bonded' during Wine & Dine might be an understatement.
When Keith ran the Disneyland Half in 2007, it was Animal Kingdom hot, as well as his first half marathon ever. I, proudly, shattered his California finish time when I crossed that timing mat in 2:09. I think Keith was slightly offended that I beat him on his own turf.
So while in Disneyland a few weeks ago after the race, probably eating the inferior Dole Whips that they serve in California (Florida ones are a million times better!), or sitting and staring at the cute tiny pink castle....a challenge was brought to the table.
How about we make this years Wine & Dine a little more exciting by upping the ante a bit?
Before we became running enemies!
I think Keith described the challenge best so I'll take the blurb right out of his
blog post
...
No money. No meals at Victoria & Albert's. No complete sets of Vinylmation. Just pride. Pride, and the winner getting to Captain Morgan the loser in front of Spaceship Earth. So if all goes well, boys and girls, you will be seeing an image similar to the one below come early October!
And... just because I'm at work and don't have access to Photoshop... I will begrudgingly post the photo he posted. Just remember that come race day....the roles will be reversed!!!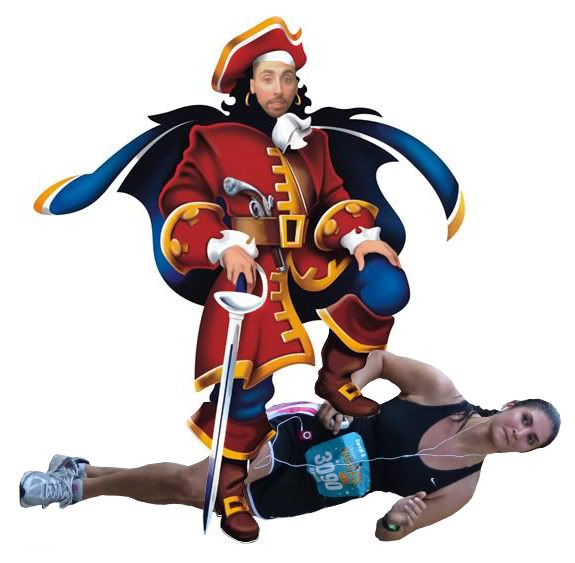 BRING IT, KEITH!!!! I will see you AND your challenge at 10pm on October 1st. You best bring your A-Game! :)